Fast and effective – the results of the SKY fast & fixed restoration have been astounding for 15 years. The disinfection of the extraction sockets with HELBO therapy is essential for success. This improves the bone quality and quantity and also reduces the risk of complications.
Sustainable control of periodontitis
The majority of SKY fast & fixed patients have teeth that are not worth preserving which are the main cause of chronic inflammation. The extraction of the infected teeth does not completely remove the cause of the inflammation, as harmful bacteria remain in the alveolus and
quickly grow again. This is where the antimicrobial photodynamic HELBO therapy (aPDT) comes into play: the treatment disinfects the extraction sockets by means of a photosensitive dye combined with low-energy light of the TheraLite laser – safely, reliably and completely painless!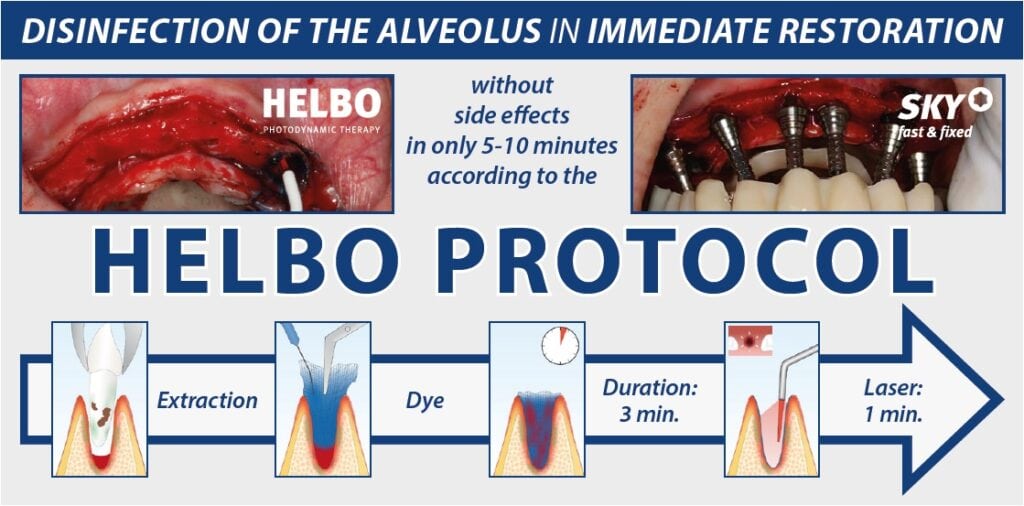 Source: Prof. Dr. Jörg Neugebauer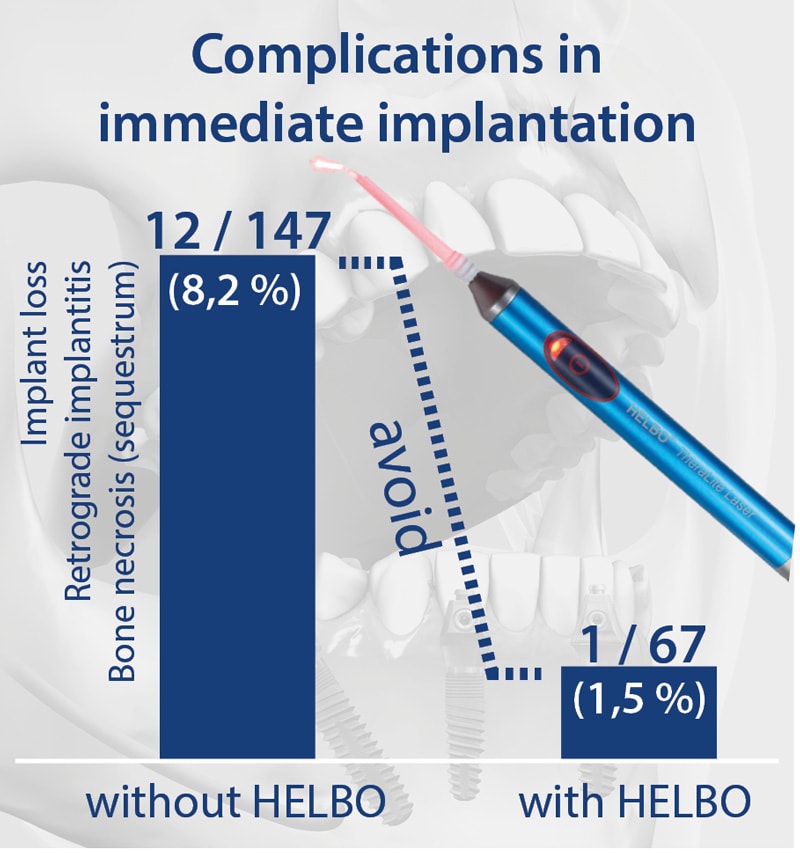 Source: Jörg Neugebauer et al. Poster 353, 20th Annual Scientific Meeting EAO, October 2011.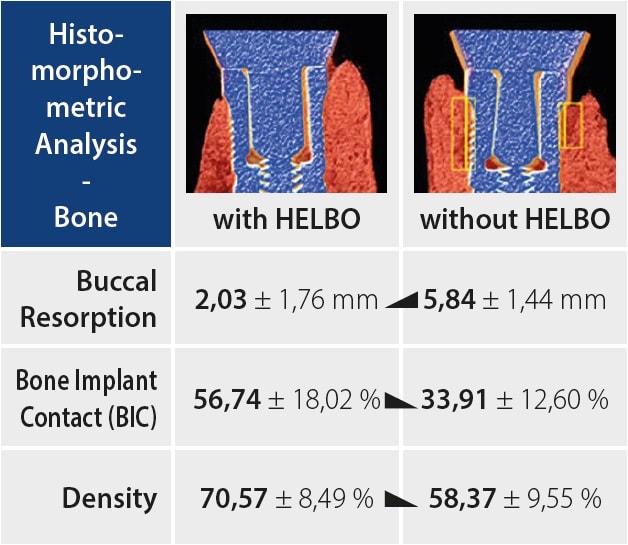 Immediate implantation in previously periodontally infected sites now without signs of inflammation and with better bone quality thanks to HELBO. Source: Novaes AB Jr, et al. Int J Periodontics Restorative Dent. 2020 40(6):917-923.
Mitigation of complications
The therapeutic effectiveness of the HELBO therapy has already been proven by many studies. The frequently occurring complications such as delayed healing or even implant loss after immediate implantation are significantly reduced through its use. Regular follow-up care should not be underestimated. Above all, it must be ensured that inflammation does not recur due to the microbial recolonisation of the implant-supported restoration in the follow-up period. Here also, you can manage your patients efficiently and safely by using the HELBO therapy, as inflammation is prevented and reliably inhibited.
Positive photobiomodulation effect
The use of the HELBO soft laser also stimulates the hard and soft tissue during regeneration through its photobiomodulation effect. This means that the patient usually experiences
less pain and faster healing. A recently published study confirms the decades of experience
that immediate implantation in combination with HELBO treatment leads to significantly
better bone quality and quantity than with conventional cleaning (see table on the right).
The shortest time to the goal
An additional advantage of aPDT is the time factor: Disinfection with HELBO during surgery only extends the treatment time by 5 to 10 minutes – depending on the number of alveoli to be disinfected. Through the use of sterile dye and probes, there is no additional risk during the operation. The reduction of complications and emergency visits, including the faster and better tissue regeneration all lead to economically positive effects for the dental practice as the patient is not usually billed for the extra chairside time incurred due to the treatment of complications.
Reduction of complications, less chairside time and positive economic effects – the use of HELBO aPDT in the dental practice improves the daily workflow and patient satisfaction in the long term. In addition, scientific studies are in support of this painless and complication-free therapy. See for yourself!
For more information: www.bredent-implants.com
Subscribe to our bredent group Press Mailing List